At the Senior Healthcare Centers, our certified geriatric pharmacists are specially trained to address the complex needs of the aging population.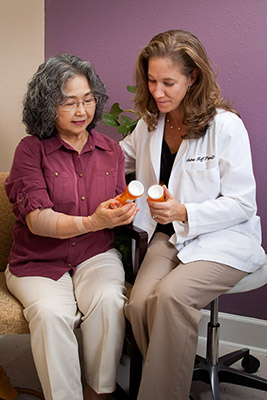 Pharmacy Services
Medication Therapy Management
Medication Therapy Management (MTM) consultations are available from our senior care pharmacists. MTM services must be ordered by the patient's Senior Healthcare Center physician. An MTM appointment will be a face-to-face appointment with a pharmacist in one of our Senior Healthcare Center locations and can include the patient and caregivers. The pharmacist will perform a comprehensive medication review to identify, resolve and prevent medication-related problems, including adverse drug reactions. Please bring all your medications, including supplements and over the counter medications, to your appointment. At the completion of your appointment, the pharmacist will provide you with an updated medication list and forward any recommendations to your physician.
Patient Assistance
Our senior care pharmacists have access to resources that may assist you in making your medications more affordable. If you have questions about your current prescription drug coverage, or need assistance reducing medication costs, please contact the Senior Healthcare Center to schedule an appointment with one of our senior care pharmacists. During Medicare Part D open enrollment, our pharmacists are also available to conduct comprehensive medication reviews and provide information about prescription plans for the upcoming year.
Collaborative Practice Clinics
At the Senior Healthcare Centers, our senior care pharmacists and nurses work together with our physicians to ensure your medications are safe and effective. We have two collaborative practice clinics where pharmacists and nurses work in conjunction with your physician to manage the following disease states:
Osteoporosis
If you are referred to the osteoporosis clinic by your physician, you will meet with a senior care pharmacist to review your bone mineral density (BMD) test results, discuss different treatment options and learn about calcium and vitamin D supplementation, fall prevention and appropriate weight-bearing exercises.
Anticoagulation
if you are prescribed a medication to thin your blood, such as warfarin, you may be enrolled in our oral anticoagulation clinic. This clinic is overseen by specially trained pharmacists and nurses.
COPD Clinic