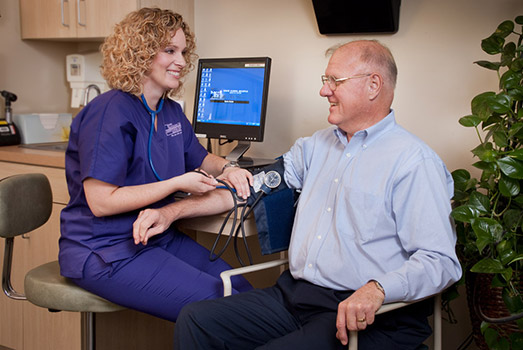 The Senior Healthcare Centers provide primary care for seniors. Our patients are unique and special, and we have created programs that reflect who our patients are, as well as their needs. Our centers provide comprehensive care for seniors including assessment, treatment and education about complex health issues.
We are aware of the vital role of families and caregivers as part of the healthcare team and strive to include loved ones in the care process at all times. Our staff and providers receive regular continuing education and training in geriatric medicine in order to better service our patients.
In addition, our centers are equipped with electronic health record technology and medication prescribing to improve the patient experience. We also offer a patient portal where you may requests medication refills, make appointments, view lab results and send messages to physicians and staff.
Our Senior Healthcare Center Team
The Senior Healthcare Centers' interdisciplinary team of professionals are trained to address the wide range of medical and psychosocial issues affecting the aging population. Our dedication to this specialty is reflected in the services we offer and in the way we care for our patients. Our team includes:
Board Certified Physicians with advanced specialties
Advanced Registered Nurse Practitioners
Board Certified Geriatric Pharmacists
Licensed Clinical Social Work Case Managers
Advanced Registered Nurse Practitioners
Registered Nurses
Referral Coordinator
Support Staff specializing in geriatric medicine
Find a Doctor
The Senior Healthcare Centers are outpatient departments of North Florida Regional Medical Center (NFRMC). North Florida Regional Medical Center is Gainesville's only community hospital and provides medical and acute care for 14 surrounding counties. NFRMC offers comprehensive cardiovascular care, oncology, orthopedics, neurosciences, weight loss surgery and treatment, women's health, wound therapy, diabetes care and senior care.